AIS 5G joins hands with Origin to co-develop virtual store as Metaverse trend makes a hit, aiming to make a great buzz for Thailand property industry penetrating digital lifestyle experience through "Origin World" with 16 own projects under the concept Virtual Property Commerce on V-Avenue.Co
29 March 2022: Regarding the success of the first-ever virtual department store V-Avenue.Co, thanks to the intelligent AIS 5G networks creating a new-in digital lifestyle site and paving the way for a greater deal of business sectors including seamless digital lifestyle for Thais, AIS makes a move to expand Digital Landlord with the cooperation and collaboration from leading property developer Origin Property in a bid to launch "Origin World" under the concept Virtual Property Commerce on V-Avenue.Co.
The move is expected to make a smoother digital lifestyle experience, enabling customers to participate and engage via our 360 degrees Virtual Sales Gallery on the virtual world, following the Metaverse global trend. More than 16 of Origin's own projects under the brands of Park Origin, Knightsbridge, The Origin, Britania are participating in the campaign while AIS customers can get an exclusive discount of up to 200,000 THB on the purchase of properties from Origin via V-Avenue.Co.
Pratthana Leelapanang, Chief Consumer Business Officer at AIS, said that V-Avenue.Co already became the complete virtual lifestyle shopping mall thanks to the development of intelligent networks from AIS 5G.
He said AIS 5G, as a Digital Landlord, has been developing and collaborating with potential partners from various business sectors such as retailers, restaurants, fashion stores, home appliances manufacturers, and IT gadgets developer to enhance the competitiveness of the digital lifestyle experience while offering more alternatives for customers, especially online audiences.
"This is another one big step of V-Avenue penetrating Thailand's property industry. We are thrilled to announce our first-ever property developer partner Origin to offer a more exciting experience for customers with Virtual Property Commerce technology. They can walk through the existing showrooms while shopping in the virtual store. V-Avenue's virtual store reflects our hard-working procedures of our ever-developing 5G networks and this allows Thais to be more familiar with world class technology while introducing a big change for business sectors about services and logistics. These are considered as one of the most important things to drive the digital economy and competitiveness among entrepreneurs."
Peerapong Jaroon-ek, Chief Executive Officer of Origin Property PCL., said Virtual Reality (VR) became one of the most important tools for business sectors to enhance upcoming experiences for consumers which then led Origin to partner with AIS 5G to co-develop "Origin World" or also known as "Virtual Store". This will allow everyone to enjoy shopping ready-to-move-in properties from Origin through the  platform's website https://V-Avenue.Co. The website will be ready to launch on 29 March 2022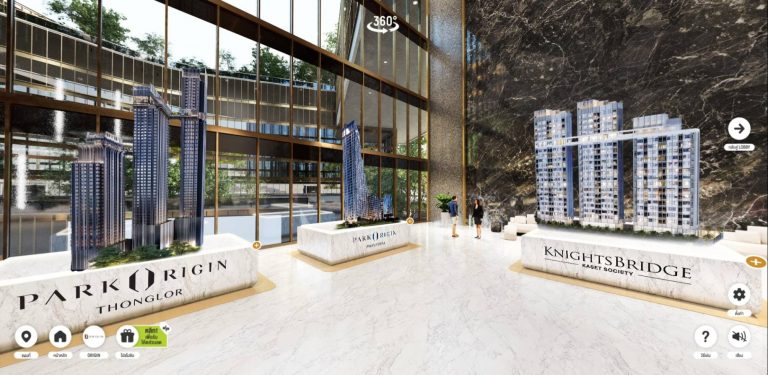 "Offline Sales Gallery for property developers will be going   out-of-date in the near future. Origin is focusing on offering something new to our potential customers from introducing new methods for home buyers to collaborating with our partners in order to develop online shopping experience to cater to the newer generations.
The collaboration between AIS will make a great move for us to aggressively penetrate the industry as we bring 5G and VR technologies to allow customers to enjoy our products, anywhere and anytime. This is the pioneering vision from Origin that always offer up-to-date products and services for customers." Mr Peerapong said.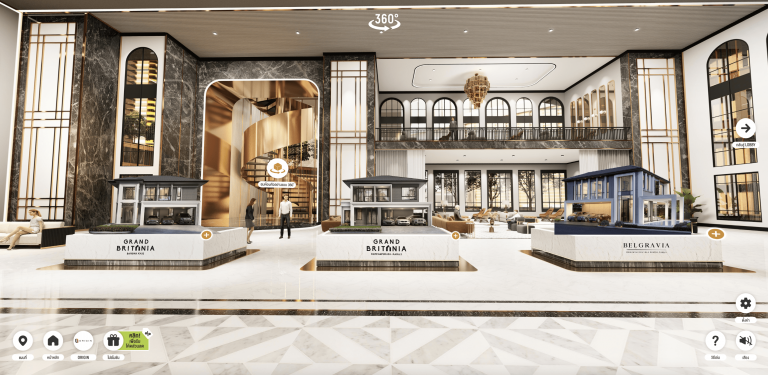 V-Avenue.Co is now ready to revamp Thailand's property industry by fully entering the Metaverse trend with premium digital lifestyle experiences on "Origin World", the first-ever move for home buyers to survey Origin's properties such as 10 condominium projects from Park Origin Phromphong, Park Origin Thonglor, Park Origin Phayathai, Knightsbridge Space Rama 9, Knightsbridge Kaset Society, The Origin Ramintra 83 Station, The Origin Ratchada – Ladprao, Knightsbridge Samutprakan City, Origin Plug & Play Nonthaburi Station, The Origin Plug & Play Ramintra and also 6 housing estates including Brighton Khukhot Station, Britania Wongwaen Chatuchot, Britania Bangna KM.26, Belgravia Exclusive Pool Villa Bangna Rama9, Grand Britania Bangna KM12, Grand Britania Ratchaphruek Rama 5 through virtual store.
Visit "Origin World" on www.V-Avenue.Co with exclusive discount up to 200,000 THB for AIS customers when booking through V-Avenue.Co.
About AIS
Advanced Info Service Public Company Limited (AIS) is the number one Digital Life Service Provider with the most spectra to provide service, totalling 1420MHz . The company has the most subscribers in Thailand, counting over 44.1 million subscribers at the end of 2021. It is ready to power Thailand with 5G technology which currently covers 77 provinces through 3 core businesses: mobile phones, high-speed home broadband through AIS Fibre, and Digital Services in 5 aspects of video, the Cloud, digital payments, the Internet of Things (IoT) and services provided jointly with partners. The company is also expanding into new areas of business such as AIS eSports and AIS Insurance Service. All of this supports a robust digital infrastructure for the country, boosts the industrial sector's competitive potential and upgrades quality of life for all Thais. Find us at www.ais.th